Wherein Jack looks forward to holidays and wonders if she can last until then. Also in which she talks about names and their vital-ness to writers.
Names are important for writers. Not just your pen name but the name of your blog/book site. Spreading word about your book even before it is out is important, as I've said before. One of the best ways to do this is to set up a blog. You want a place that is yours in the wide internet world. One where people can find you. And you will also want a good name for it.
Something my sister showed me right off is the importance of titling my blog. I changed titles about every week - you know all those quotes I use on my post titles, those ended up as my blog title. She cautioned me that this might make it harder when people actual wanted to find my blog. What would they type in? So, when I set up this blog - in other words, when I took her advice and got serious - I sat down and spent what felt like ages thinking up just one title for it.
I didn't like this plan. I wanted to use movie quotes still, but I consoled myself by using them in my posts. Now it is my...trait...calling card, whatever you fancy to call it.
Anyhow, if you plan to publish, it is important to sit down and plan this out. Setting up a blog is good, and giving it a title is important. (The blogs I read have a lot of great titles which fit them well.) What I would advice to look for in a title is something which fits your personality. Using your pen name is a good idea, but not necessary. A title which stands out would be helpful as well. But the name you pick, do not change it.
Also, do not get a new blog every month. I know you can tell your readers you have a new blog, but it is rare for readers to move to the new blog with you. So make sure you set up a blog you plan to keep. (And when you make your url, it would be a good idea to use your pen name, thus making it easier for readers to find you.)
Examples. You want to find your favourite author's website. What is the first thing you are likely to type in? Either their name, or maybe you go so far as to type scottwesterfeld.com. You want your readers to be able to do the same to find you.

Another note on blogs. I know it is common to have more then one blog. I have several set up for my books, which I link to on this blog, which is my main one. I have found though, it isn't a good idea to have all your blogs listed on your About Me page. When someone clicks on that and sees five or so blogs, they aren't going to know which is your main one and might just go away.
There is a way to fix this. If you go under edit you can click on which blog you want to be displayed and you can link to the others from your main one.
I've also mentioned pen names. These are important. Like your blog title, you do not want to go about changing this. I mean, one week you might be Annie Smith and the next Sally Jones. No one is going to be able to find you and after awhile they will give up. So think of a pen name BEFORE you set everything up.
Authors do not have to use their real names when they write - but on that same note, using your real name will not harm anything. I know of authors who do both, or who use a pen name and have their real name on their site or something. But names are important. Whichever you go with you want to make sure it is a real name.
I know when many set up a blog or anything on the internet they go with names like, Alice-223399. Or FlyingChic21. (Maybe it should be FlyingChick - since they can fly. No wait, chickens can't fly...can they? Has anyone ever agreed on this matter? Or are they too busy with the road still?)
Anyhow, don't do names like that. Also, do not steal a characters name. Everyone knows Jo March isn't alive and writing books. They see that on a book cover and their going to either think, "NERD!" (Not that being a nerd is bad,) or, "What is she, five? I won't read that."
You want to prove to them you are an author. So don't use character names. And make sure your user names are your actual pen name. (You know what...maybe I should look into this more. Maybe user names don't need to be your author name. I am going to check authors on twitter and facebook, do some research.)
However, you do need a serious author name. And there are many different ways to do one. You could use your initials (I'm sure you can all think of examples, but just in case. J.R.R. Tolkien). Or a middle initial. (Fred E. Rodgers. *Snicker* I came up with that all on my own. *Grin*) No middle name. (Henri Watson.) Or all three names. (Bob George Kilroy.) Just make sure it is a name you like, because it will be yours for the rest of your writing life. (*Laughs evilly.*)
There, now I hope that was helpful to someone. I know it helped me, the little I knew before I started.
Okay, names aside now. Guess what came in the mail yesterday?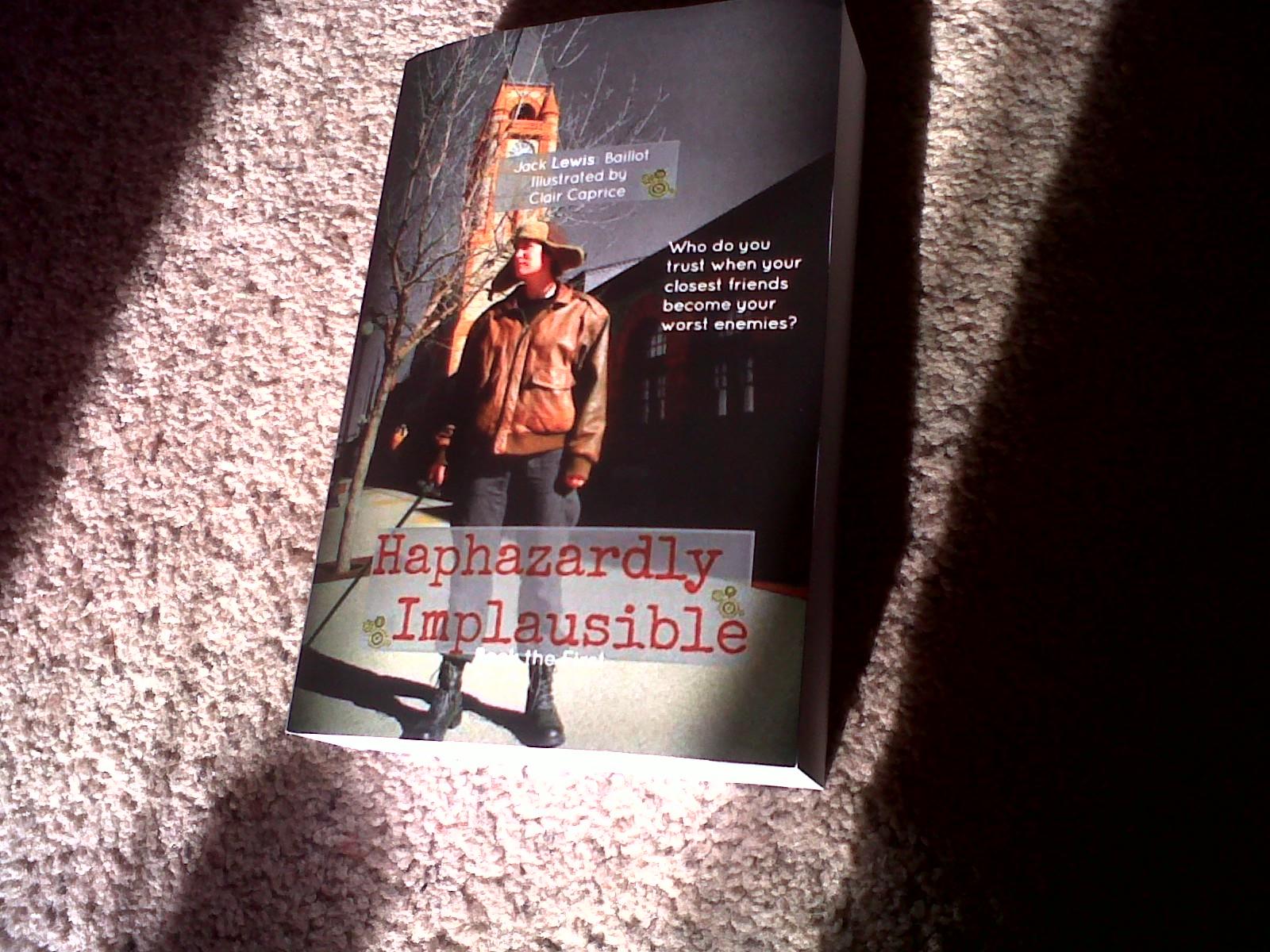 I have been quite giddy about it all day. I like to flip through it and look at the pictures and read bits here and there. It still doesn't feel very real - and it needs a tad bit more formatting - but I am VERY pleased with it. The pictures aren't blurred, the formatting turned out very nice. It is terribly thick, but I fixed that. I had a kind of large print set I suppose, but now it is normal print.
I must confess, I've been carrying it about all day. Simply because I can actually do it. And I read it in public, because it is in book form.
Next week I read it one last time, to make sure every thing looks good. But for now, I am just enjoying it.
I am going to bed now. I shan't bother telling you were the quote is from, I'm sure you can guess.
Allons-y and Bonne Nuit!