SURELY you knew this was coming! The day, I try my best to review another movie.
Wherein Jack reviews (talks on and on) about The Hobbit.
"There once was a Hobbit who lived in a hole."
Despite the fact I had to awaken at eight in the morning after being up since three and stay up until three again the next night, I went to the midnight showing of The Hobbit. Being in a small town, nothing exciting happened while I waited just a half hour in line. (Yes, a half hour. How's that for all you from the big city who had to wait three hours? Envious? Don't worry, I had my pay back over the extreme lack of costumes to look at. There were two.)
Anyhow, my short review of this movie would simply be, it was amazing! But I don't do things simply, so I shall have to go into more detail. Spoiler free as well.
I loved The Lord of the Rings and when I learned of The Hobbit movie I was't overly excited. I loved the book, but it just didn't seem movie worthy. For some reason. I still don't know why I thought this. And then when they couldn't find an actor to play Bilbo I lost interest, especially when Mr. Thumins turned it down. I was even less excited when I heard Martin Freeman accepted it. (Surprised?) I like him as a actor. He is very good, but he was Watson and if he became Bilbo then there would be less filming time for Watson and we'd have to wait painfully long years for Sherlock to come out. And I rather sulked about the whole thing - until Adler happened.
After Adler, the very idea of seeing MF as a short Hobbit with big feet, going on an adventure, finding a dragon Sherlock in a cave appealed to me. And my excitement grew until I was bouncing off the walls last minute. Kind of...I tried not to think about the 14th much.
Anyhow, I am happy to say all my doubts and fears and lack of sleep were squished. I was wide awake through the whole movie and MF is the best Hobbit alive.
I loved the detail in this movie. If the dwarves' home was still around I'd move there in a heart beat. I'm also almost willing to say it was lovelier then the elf homes but that might start some kind of war in Middle Earth.
The dwarves were amazing. In the book I didn't care about them. They were just there and when they died in didn't bother me much. (I was a bit sad Thorin died because right before he did I liked him. Like RIGHT before.) In the movie, however, I got to actually know them and am now fond of all of them. Especially Kili and Fili - it helps they are rather dashing I suppose. But, I just love brothers who get along. And the bit with them at the mountain and the giants fighting....oh, that was almost heart breaking.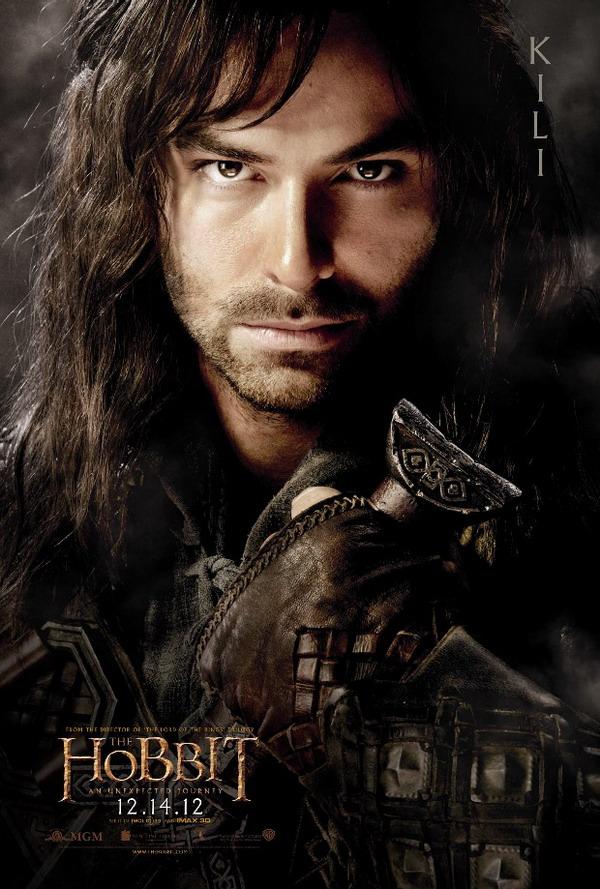 "Bilbo! We thought you were lost!"
I also liked Thorin and not just because he was Thornton.
"I won't be responsible for his fate."
Radagast was amazing. I was soooo happy he was in the movie! He is my favourite wizard even if he had just a small part in the LOTR. I missed him in those movies, but this one made up for it. And John loves him now because he saved a hedgehog.
I didn't miss the lack of all the LOTR characters I am so fond of. The new ones are just as memorable and fun to spend time with.
Martin Freeman has fast moved to the ranks of favourite actor with this movie. I liked him before, but now I am in a bit of awe of his skill. The best part about him is his expressions. They are seriously the best part of the movie in my opinion. I loved watching him when the dwarves were talking. He is amazing and I LOVED the riddles in the dark scene. It surpassed my hopes and expectations. And they had my favourite line in it! Now I go about hissing, "What has it got in itsss nassssty little pocketssss?!"
"You don't want to eat them! They've got worms!" "No we don't!" *Thorin kicks them.* "Yes we do! Huge worms!"
The Blunt the Knives song still makes me laugh. I loved it as much as I did in the book.
What I didn't like is easily guessed to those who know me well. Aye, the spiders. They weren't really shown but what was was enough to make me want to crawl under my seat. When the next movie comes out I want someone to give me an almost detailed description of Bilbo's fight with them, because there is no way I can watch it. Creepy, over sized spiders! What in the world gave Tolkien the idea to write about huge spiders?!
"Good morning!"
Everything else though I loved. I didn't mind the added bits at all, or the length but I am glad it wasn't longer or I might have fallen asleep. And the 3D I was actually able to notice, which is rare for me. (Aye, I'm one of those people who doesn't really see it much. It is very sad.) The soundtrack was just as good as the LOTR in my opinion I loved the Misty Mountain song and was glad it was the main theme through the whole movie. It is a lovely piece of music.


Don't go to the movie if you are in a hurry, because you will be there for awhile. And keep in mind The Hobbit is a lighter, more whimsical book then the LOTR. It isn't as dark, sad a story. More like a fun, almost light hearted adventure but with plenty of action. This is the biggest complaint I've heard about the movie, that it was too light in comparison to the other movies. Just remember, the book was a lighter book, the movie is MEANT to be this way, so enjoy it.
So, who else has seen it? What are your thoughts on it? Speak carefully, because Bilbo has a sword and doesn't look happy.
Watson, on learning that Sherlock faked his own death so he could move to Middle Earth and become a dragon
Oh yeah, and before I go. I've this to say about the world ending. Oh, I survived. Brilliant. Love it when I do that.
I won't brother telling you where the title quote is from.
Allons-y!