In Which Jack Reviews A Book On Christmas Eve.
I'm going skiing today so if you don't hear from me again it means I crashed into a tree and died a head aching death. If you do hear from me again it means I lived. Which would be nice.
Anyways, my review.
I finished it. The Larklight series. I am sad it is over, and happy I get to re-read it. (If I can make it through the spiders again.)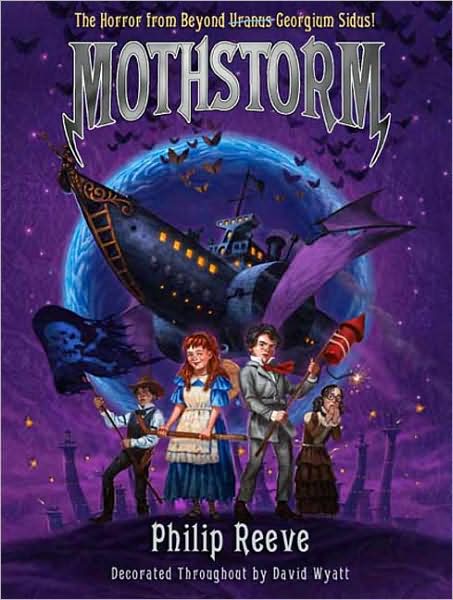 SEE?! Isn't Art so dashing now?!
I must admit, I was slightly worried with Mothstorm. I knew it was the final book in the series and I worried it wouldn't end well. (This is a fear many likely face over a well loved series. We want all the questions answered, and yet enough left open that we can imagine the characters having many more adventures. But no questions left! That is important.)
So, what if this one didn't end well?! I couldn't say good bye to Art with things hanging opened. I needn't have worried. Everything was tied up beautifully. It was a perfect ending which had everything.
I won't say much about it, spoilers. But here are some things I liked.
Jack was REALLY cool in this one. Slightly awkward in some parts, even more dashing and fearless then before.
There was a new character added who I just LOVED.
Art is growing up. *Sniff* Though he still stayed Art. Recklessly brave, (very reckless), slightly fearful at times, and quirky. I just adore Art.
Myrtle. Okay, I can KIND OF see why Jack likes her now...
Ssil. Her story, finally told. HUZZAH!
Mrs. Mumby. And Mr. Mumby - oh yes, definitely him. He really surprised me in this book.
This book only made me fonder of the series. I love how the characters have grown through the books. I'd even go so far as to call Myrtle sweet now. And I am sad they are over. These books are VERY high on my favourite books and ones I shall spend a lot of time trying to get others to read. They are so fun and exciting, and such a wonderful, new twist on Victorian England. (If Art ever chooses to write about his college days, I am first in line to buy that book.)

I suppose this is a short review, but I cannot talk too much about the book without giving a lot away to those who have yet to read them. So, if you want to know how good it really is, you shall have to read it for yourself.

Thanks to all those who filled in my lack of knowledge about the Herb thing. Being the Brit and Scot I am not I've decided to call them H-erbs. (Anything I can do to convince people I'm British.)

Also, someone asked which book called me away. I don't remember who asked so I shall just announce it to everyone because I think it is a book many should read. It is called The Search for WondLa and was pointed out to me by a fellow blogger and friend. (And aye, it is so good it gets a review as well, later on.) Right now I am leaving you all to finish it.

Don't forget! Tomorrow I shall be putting up a Christmas gift for all of you!
Quote is from a Charlie Brown Christmas Special. One in which Rerun goes for a ride on the back of his mum's bike.
And now I am leaving.
Allons-y and Merry Christmas Eve!!