Some of you were trying to guess which movie I'd pick for T. Many saying I should do The Hobbit, even though it might be cheating a little since The isn't really it's title. BUT...I already had T's movie picked out for awhile, and if using The Hobbit is cheating then so is using this movie. Therefore, I'm just going to be all pirate and throw rules to the wind and double cheat.
First is The Lion, The Witch, and The Wardrobe.
"I'm going to kill him!" "You may not have to."
I saw this movie right before it went out of the theatures. I didn't think I'd like it until my mum read the book to my brothers and I, then I REALLY wanted to see the movie because I liked the book.
Well, I instantly fell in love with it and for Christmas my parents bought me the extended edition. I can now quote it all the way through. And I used to watch it right before any new Narnia movie came out - you know, when there were still new Narnia movies coming out. I was especially looking forward to them doing The Silver Chair and The Horse and His Boy. (There, more T movies too.)
Okay, anyways, now to my second cheating movie.
The Hobbit. (Because, really, how could I do this challenge and NOT mention such a brilliant movie?)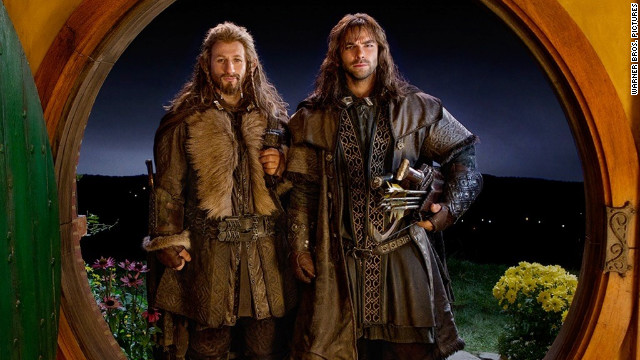 "You know my name, you just forgot that I belong to it. I'm Gandalf! And Gandalf means...me." "Gandalf! The wizard who made such excellent fireworks!"
I've seen it three times already and am DYING to buy it. I loved everything about it and I didn't mind the pale orc even though he wasn't in the book.
I have decided one thing though after seeing it so much. The dwarves, when forced to flee their home, shouldn't have taken jobs as Blacksmiths but as singers. They could have started their own band and won over every girl in Middle Earth. I even like their singing more then the elves - though I have always liked deep, rumbling voices best.
Anyways, singing aside. This rates right up there with The Lord of the Rings for me and I'm very excited for the other two - okay, a little less because I know how they end. Oh yes, and the spiders. But Martin Freeman kind of makes up for the spiders. (Kind of)
And lastly....guess what I have?! That's right! A new Psych quote. And since I had a guessing game for the last quote I'll do the same for this one and make everyone who has seen the show guess who is speaking to whom.
P.S. for those who guessed on the last quote. It was from the 11th Doctor while on board the pirate ship.
And that is all.
Allons-y!