In which Jack reviews
Have you ever had one of those days where you can get your jacket on because the sleeves won't go over both arms? Or where you are eating and somehow the fork keeps missing your mouth? I think it should be law that on days like those we should be allowed to stay in bed and read a book.
Now to the review.

The DeLallo's decided that when I came out they were going to show me the TV series called Leverage. They determined to get me through all five seasons of it. (Impossible, you say? You don't know us.) I'd only heard about the show from them, it didn't sound like one I would pick to watch on my own, but they all highly recommended it, and we shared a lot of the same likes in shows and movies so I trusted them.
Leverage is about a team of highly skilled thieves. Their mastermind is Nate Ford, a man who used to be an insurance investigator later...well, turned thief. He's like a modern day Robin Hood - robs from the wealthy and gives to the poor.
"The rich and famous take what they want, we steal it back for you." (Impressed? I quoted that from memory, in Nate's voice. That's what you get, watching five seasons in two weeks.)
Nate gets help from a hitter - Eliot -, a hacker - Hardison-, a thief - Parker -, and a gifter - Sophie. (They did one of the Get Smart jokes with Sophie, where through the whole show you never find out her real name.) Together they help people who have been taken advantage of by the rich. It is a fun show, and clean. (Though we skipped one episode where, I was told, there was a lot of off colour stuff in.)
Now, the what I liked about this show.
First off, it was fun. It wasn't sad, or painful, or edge of your seat. It was exciting, and funny, and had happy endings. (It's the kind of show you need after you've had a really bad day and just want to be left alone for an hour or two.)
Second, the characters. Nate and Sophie were okay, but not my favourites. They become kind of like the parents as the show goes on, which is a lot of fun. But they just weren't my top favourites. Mine were an equal tie between Hardison and Parker with Eliot close behind.
Hardison is a geek. He quotes Star Trek and Doctor Who. He's cool. He's also a gentleman and very sweet.
And everything past this point has a risk of being filled with spoilers. I don't intend for there to be bad ones, but it sounds like everyone else in the world has seen this show and I am the last. So I am going to put some in.
I especially liked how Hardison was with Parker. He accepted that she was odd and socially awkward, and even though it was obvious he loved her, he didn't do anything to make her feel uncomfortable. He became her friend first and didn't try and change her. (And it was sweet, how he cheered her on every time she talked to someone - or made a friend - and didn't end up stabbing them with a fork.)
And I especially liked it when Hardison had to work with Eliot. They were funny together, complete opposites, and acted like brothers. (I think Hardison would have been the younger brother, doing everything he could to purposely annoy his older brother.) My favourites though were the moments Hardison got Eliot to have fun, like when they were chasing down bad guys and singing, and then Eliot would realize what he was doing and throw Hardison a look which seemed to say, "How dare you make me enjoy myself!"
And speaking of Eliot, I LOVED how he was with Hardison but especially Parker. He looked after her, and sometimes let her annoy him just because. (Such as when was wounded and she sat beside him and kept poking him.) There was another time as well, I can't remember what had happened, but Parker was upset over something. (From what I remember, some guy had done something to her, but for some reason I don't remember what was going on.) Anyways, she wanted to kill the guy and Eliot said he could do that for her. Because we all need big brothers who strangle people who aren't nice to us.
And now to Parker. Parker is one of those rare girl characters with unusual personality. She is very smart, but also a bit clueless. She doesn't understand how to act around other people. She is sweet and funny, brave, but as she gets used to working with Nate and the others she learns to let them help her with things. (She also believes Hardison can make anything happen. In a Christmas one there was no snow so she told Hardison to make it snow for her.)
She is a really fun character and I liked her a lot.
I liked the whole show a lot. It wasn't traumatic, though it did have some edge of your seat moments. *Gives Treskie a "You know which moment" look.* Now I am just hoping for a spin off, like the DeLallos, with Hardison, Parker, and Eliot. (It isn't nice that there are only five seasons of the show. Good shows are rare enough anyways, so they should have more seasons.)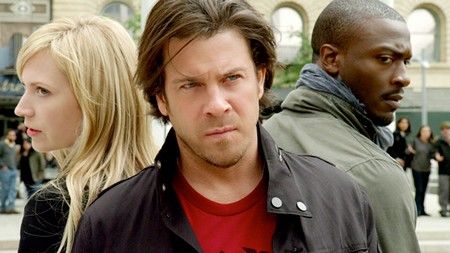 And I am really bad at ending these reviews so....
The quote is from the show, Hardison's most used line. (I don't know what it means really, but by season three it made me smile every time he said it.)
Allons-y!